When I was in college, my friends and I used to listen to music when we got ready to go out.  There's something about "Shake Ya Tailfeathers" that just makes picking out clothes and squeezing into uncomfortable heels more fun.  So we'd pile onto the metro, enjoy ourselves wherever we decided to go, and then at about one in the morning my stomach would start growling.  TIME TO GO.  So we'd pile into a cab this time (because hunger can't wait for metros), and stop at Bear's Den, our campus cafe.  I'd order french fries (obviously).
If you hadn't guessed by now, my favorite part of going out was always the late night food that I could score on the way back home. #sorryimnotsorry
Last weekend was a throwback to those old times, except it was nine o'clock and we went to a real restaurant.  I hate Mexican food, but I was hungry so I shared a chicken quesadilla.  And it was GOOD.  Maybe I need to reevaluate my hatred for all food that comes from south of the border.
The world food tour continued when I went to a work potluck and had some veggie lasagna.  This lasagna was like NOTHING I've ever tasted.  I think it's because my coworker was taught to make it by her Italian grandfather. It had mushrooms, zucchini, squash, and spinach, and it tasted like a giant, cheesy square of goodness.  I couldn't even take a picture of it until I'd inhaled half of the meal.  And I don't even LIKE mushrooms.
After being so international, I decided to make some chicken salad and park myself back in Foodville, USA.  I know that it's fall now, and chicken salad is best enjoyed in the summer time at a picnic, but this stuff was just so good that I will be eating it until the plate is licked clean.  Check back for the recipe tomorrow.
It doesn't hurt that I had some kettle cooked potato chips on the side.  Can someone please tell me why the kettle cooked chips just taste better than the regular ones?
Because I didn't have enough chicken in my lunch, I finished off my international food week tour right, with Indian chicken curry.
You know it's good when you finish your entire MEAL before remembering to take a picture.  What you see here is the beauty of Indian food – the fact that I ate a full meal and will still have PLENTY for lunch tomorrow.
Four countries in six days.  Pretty good if you ask me.
Visit Peas and Crayons for more What I Ate Wednesday fun.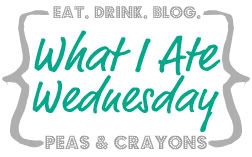 What is your favorite type of cuisine? Do you love chicken curry as much as I do? Can anyone answer the kettle cooked chip question?
**Tomorrow is the last day to link up for the Veggie of the Month – September.  Check out all of the recipes and add one of your own!**
Related posts: