I can't WAIT for fall.
Here in New England, we've been experiencing fall temperatures a little bit early, and for me it couldn't come sooner.  All winter I complained about how I was ready for it to be warmer out, and for half of the summer I said it was too hot, but fall? Fall is my season.  And in the fall, I instinctively WANT to do all of these things that make me feel healthier.
For one thing, there are farmers' markets.
If you follow me on Instagram, you saw that AWESOME pumpkin collection pictured above.  Yes, you can go to the farmers' market in the summer (and believe me, I did), but there is something about waking up when the air is crisp, tossing on a scarf and a cute pair of boots, and heading out to pick fresh fruit and veggies from the farmers' market.  This weekend, I went to a market that I'd never visited before, and it was even better than the one I visited during the summer.
Coming home from the farmers' market made me want to cook, so here are some of the things that I've been eating:
I used my bell pepper, some carrots, and some peas to make a vegetable curry.  It made my whole apartment smell like heaven, but it was so spicy that it made my mouth feel like the opposite of heaven.  Apparently you're not supposed to blend the entire green chili, seeds and all, and throw it in your curry unless you want your mouth to be on fire.  You've been warned.
For Meatless Monday, I picked up some broccoli, threw in some carrots, and ate them alongside a baked potato.  Greek yogurt instead of sour cream? I think so.
Aside from the farmers' market, the crisp fall weather ALWAYS makes me want to go outside and take a walk.  Since I'm participating in a walking challenge with my coworkers, I took a long walk around the neighborhood after work.  When I got home, I'd worked up an appetite, so I enjoyed some kale mac and cheese (my favorite).
If it had been 90 degrees outside like it's felt the past few months, I never would have wanted to walk for half an hour.  And just like that, fall = healthier choices!
Fall also means snuggling on the couch with a book and getting to wear my neon socks again.  And don't even get me talking about the scarves! That may be the best part of the season.
Since yesterday was Tuesday, I thought I'd treat myself and I had a York peppermint patty after dinner.
So far, fall is going VERY well, and it's still technically summer.
I'll take it.
What is your favorite season? Do you love fall as much as I do?  Thanks as always to Jenn for hosting.  Check out her blog for more WIAW.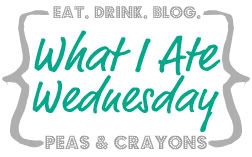 P.S. Check back for a fall recipe on the blog tomorrow, courtesy of the
Fruit of the Month
(link-up opens tomorrow!).  I'll give you a hint –
manzanas asadas.
Related posts: